Abstract Aspens
Leavenworth, WA
There are small pockets of beautiful aspen trees in the Leavenworth area of Washington and they are definitely a treat to photograph in the fall. In this photo, I have used camera motion to create an abstract photo of this beautiful aspen forest. Photo © copyright by Kelly Selzler.
Fuji Flex Super Gloss Silver Halide Fine Art Print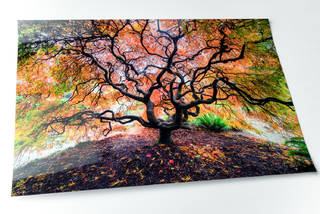 Fujiflex Crystal Archive Printing Material is a silver halide color printing material with enhanced digital exposure suitability, designed exclusively for digital output on large-format laser printers. This printing material yields high-image-quality digital prints when used with a laser printer. Furthermore, because of its PET (Polyester) base, this printing material produces prints that are superbly smooth with a sharp, transparent super-gloss finish.
Select a print size:
Fine Art Canvas Gallery Wraps - Ready to Hang
The eco-friendly canvas prints are handcrafted right here in the USA using professional-grade printers, OEM non-toxic water-based inks, and the finest, brilliant white poly/cotton canvas, which is OBA-free, will not yellow over time, carries a low satin finish and is shielded to resist UV fading, moisture and abrasions (it also has a seal of approval from the Fine Art Trade Guild). Each canvas is printed to order and wrapped with precision over sturdy and sustainable custom-milled American poplar wood stretcher bars, which are harvested from managed forests, certified by the Forest Stewardship Council, and cut and assembled to fulfill each custom order. Before your print heads out, it is given a full 360* inspection and packaged with care, ready to brighten your wall space in no time! The canvas wraps are 1 1/2" thick with a solid black siding and come ready to hang!
Select a print size:
Chromaluxe Fine Art Metal Print - Ready to Hang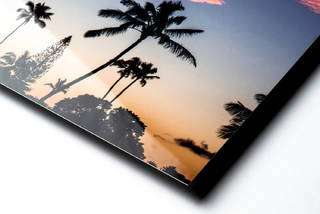 ChromaLuxe Metal Prints represent a new art medium for preserving photos by infusing dyes directly into specially coated aluminum sheets. Your images will take on a magical luminescence and vibrance that is breathtaking. The detail and resolution are unparalleled. These prints are backed with a 3/4" inset frame and include a wire hanger. No framing is necessary and these are ready to hang!
Select a print size:
Lumachrome Fine Art Acrylic Print - Ready to Hang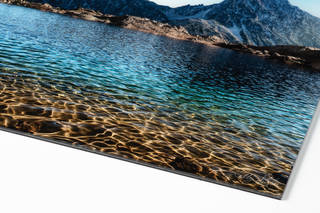 The Lumachrome Fine Art Acrylic Prints are gallery quality pieces and the best that I offer. This print gives unbelievable resolution, clarity, and vibrancy. The printing process begins by producing a photographic print as a transparency that is then face mounted from behind to a sheet of crystal clear acrylic glass. The light that is reflected off the print is visually "trapped" within the acrylic glass.The result is a 3 dimensional-like luminescence. The Lumachrome print includes a handmade float mount backing and French cleat for simple hanging.
Select a print size: